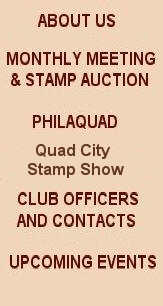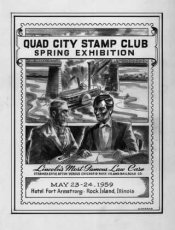 Click for a larger image

Note: When using a mobile device,
this site is best viewed in landscape orientatio
n.
T

he Quad City Stamp Club serves stamp collectors in the Quad Cities area of Iowa and Illinois (Rock Island, Moline, East Moline, Davenport and Bettendorf, etc).




We have members from anywhere in a 50 mile radius.
The QCSC sponsors two major events each year: QuadPex stamp show and bourse - usually held on the last Sunday in October...

...and the "Stamp Out Cancer" Auction with all proceeds going to the American Cancer Society.

Our 41st auction will April 28, 2018 at Faith Lutheran Church. Moline, IL.
The QCSC meets on the second Thursday of every month which includes a stamp auction of items provided by the members. Guests are most welcome.