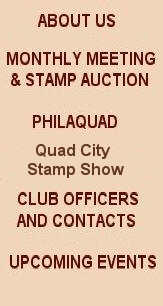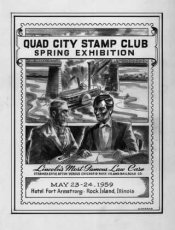 Click for a larger image

The QCSC meets on the second Thursday of every month which includes an auction of items provided by the members, two raffled stamp items, a membership drawing, snacks and coffee. During the December meeting, we hold a gift exchange. Members begin to gather about 6:30 PM with a business meeting at 7:30. There are usually stamp vendors present. Guests are most welcome. Next Meeting: Pending availability of St. Mary's.

Location: St. Mary's Church basement (Map)
410 10th Street
Moline, IL 61266-1301


Next meeting January 11

Click here to see the auction list ...
MONTHLY STAMP AUCTION

Normally, each auction consists of 35 lots consigned by club members. Ninety percent of the winning goes to the seller and 10% to the Club. Lots may also be donated to the Club for auction.

In June, QCSC members donate lots to a White Elephant Auction which


provides for the rent of our meeting facilities.



If you have items you want to sell, click here for a blank Auction Sheet and follow these guidelines .